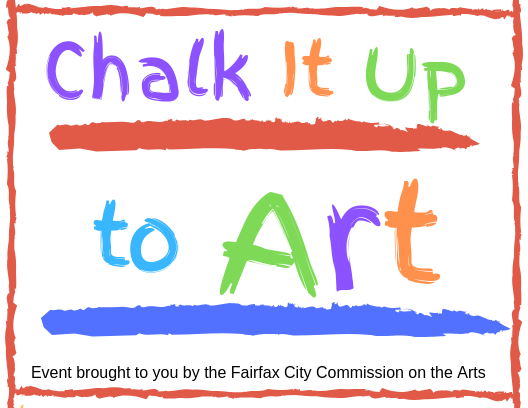 An open air art gallery during the Fairfax Fall Festival
Sponsored by the Fairfax City Commission on the Arts
Rules-
Participants must check-in at Commission On the Arts table upon arrival at the park. Failure to check-in will result in disqualification of that square.

Each drawing must remain within the designated square area.

No spray fixatives may be used.

Participants may bring their own chalk. All materials must be temporary and washable with soap and water. No 3D paint or non-chalk materials will be permitted. The use of any prohibited materials will result in disqualification.

Drawing on buildings, trees or any surface other than assigned squares is not permitted.

The primary design of a square must be created in chalk.

No materials may be used that emit offensive odors or cause potential annoyances to other artists or festival-goers.

Three-dimensional elements may be incorporated into square designs. These must not exceed the square area, cannot exceed 2 feet in height and must be removed by the artist no later than 5 p.m.

The festival is a family event. Any artwork that contains nudity, profanity or other content deemed inappropriate by festival officials will be removed.

Only people who have registered for the competition will be eligible to receive prizes and bragging rights.

Judges or festival officials can disqualify artists for failure to adhere to any of the above guidelines.
(Not Live Link) Reserve Your Art Space Here.